Shipping Policy
We make every effort to ship your order within a few days of receipt. Continental US shipments are usually made by UPS Ground Service, however some shipments will go USPS. In the rare occasion that we are out of stock of an item and will not be shipping within thirty days, we will notify you and give you the opportunity to cancel the order. Credit card orders will not be charged till 1-3 working days before merchandise is shipped. We do not ship to P.O. Boxes. See map below with UPS estimated transit days from our location in Chicago Illinois. Note: Transit days apply to working days only, UPS does not move product on weekends and holidays.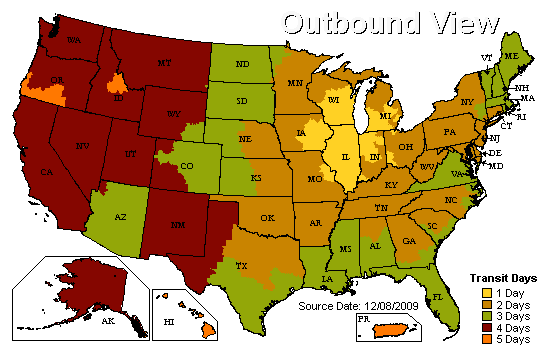 Flat Rate Shipping and Handling Charges in the Continental US

Order Up to $28.00

$9.95

$28.01 to $42.00

$10.95

$42.01 to $58.01

$12.95

$58.01 to $75.00

$14.95

$75.01 to $99.00

$15.95

$99.01 to $125.00

$17.95

$125.01 to $175.00

$19.95

$175.01 to $225.00

$23.95

$225.01 to $275.00

$29.95

$275.01 to $375.00

$39.95

$375.01 and Up

$49.95

We do not ship out of the continental US
Shipping Charges to Alaska & Hawaii are by quote only; email or call for shipping charges.